Scanning slides in order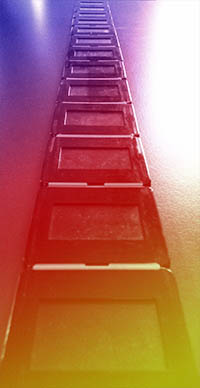 The scanning of slides in order comes with an extra charge. It takes twice more time to keep the pictures in order, as it`s not necessary to pay attention. We don`t use any automatics in our processes. Every picture requires specific setting, this is the only way we can guarantee our quality.
While keeping the order, we need extra administration, the program setting demands more time and taking out of the scanner requires attention. If it takes twice more time to scan, unfortunately the price should follow it...
What is the solution?
#1: -You don`t ask for scanning in order
The pictures we receive are always in some kind of a management unit (compartment of 25, 36, 50, 100 slides) and these are usually labeled. Boxes like these are always scanned into different folders with their title - so the pictures belonging together will stay in the same unit.
#2: -You don`t ask for scanning in order, because later you will rename the digital pictures.

e.g. Italy 1986 box:
1st picture: Kate and me watching the sunshine.
2nd picture: Breakfast at the restaurant.
...

After we burned the pictures on DVDs, one should copy them on the computer and can rename the pictures one by one in the order e.g. Italy 1986_001.jpg etc. You can ask our colleagues, they will happily help you. Hundreds of pictures can be done in an afternoon and serious money is saved in the process.
#3 -You separate the pictures into different envelopes and label them.
This way it`s sure the folder will contain the pictures you selected - so slides belonging to the same topic will be in a folder named after your labels.
Slide -negative roll and other transparent film scanning

- The films will be cleaned;

- Rotated, cropped images with restored colors;

- With a short retouch for clearing scratches;

- Copied to uniquely named folders;

- Above 100 pictures the DVD burning is included in price.

Taking apart framed slides, then putting them together:

0.07+0.07

£

/pcs

3 minutes retouch per image

1.5

£

Retouching of images per minute

0.5

£

/min
Scanning in order More>>
100% extra charge
Slide and photo negative scanning




(Meaning: 24*36 mm/Leica frame/normal film/135 film)

1200 dpi

(1100*1600 pixel)

0.29

£

2400 dpi

(2200*3200 pixel)

0.49

£

4800 dpi

(4400*6400 pixel)

1.9

£

Medium format silde, negative scanning
(rollfilm, glass negative, 6x4,5, 6x6, 6x9 etc.)

1200 dpi

0,99

£

2400 dpi

1.9

£

4800 dpi

3.6

£

X-ray, radiography scanning

300 dpi

Dental images, or sized below 20*25 cm

1,99

£

Large size: chest radiography, limb radiography, etc.

4.99

£

Microfilm scanning

By frame 4800 or 6400 dpi

0.99

£

110 film scanning

2400 dpi

0.7

£

4800 dpi

2.99

£