-After archiving I would like to organize the images. How do I start?
The best way is to spend some time with organizing before scanning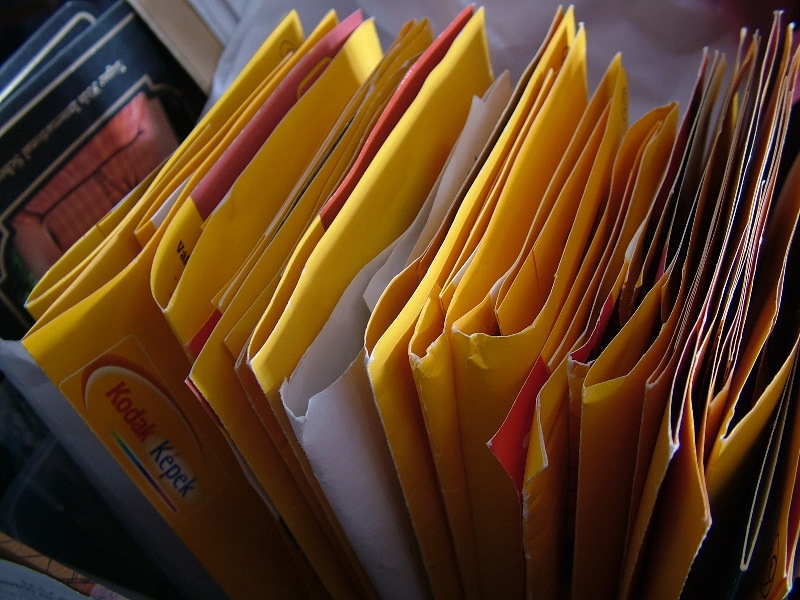 .
The pictures we receive are usually in the envelopes of the photo processing company, which is good, because it's sure the picture was taken in the same period. It is expedient to write the year after the recall, and the name of the people on the picture to make the identification easier. If there is no title on it yet, we offer you to add the year, because in this case we will name the folder by the same heading on the computer. It is useful to create the folders by years and events within. Stored pictures are going to be easier reviewed, fastly searchable. It is usual that photo envelopes, scrap books, negatives and slides occupy one or two dresser drawer. A DVD can store at least 2000 photos in permanent quality, in small place and we can make a copy anytime for grandma'. Digital photos' name can be modified anytime, the point is to put one topic into one folder.
Typical example to a usual, after-archiving structure of folders:



Scanning of PHOTOS, prints, drawings, artwork

Printing of photos

On high-quality glossy photo paper with dye sublimation process, varnished

.

- The dust is remowed before scanning;

- Digital images are rotated, cropped, color-managed;

9 x 13 cm

0.39

£

- Significant dust and scratches are retouched digitally;

10 x 15 cm

0.49

£

- The JPG or TIFF images are saved to individual folders;

13 x 18 cm

0.69

£

- You can take it on pendrive or DVD, but we recommend both for data safety.

15 x 20 cm

0.99

£

20 x 30 cm

1.29

£

300 dpi

0.29

£

30 x 40 cm

2.99

£

600 dpi

0.49

£

1200 dpi

0.99

£

Scanning of large-scale pictures

Retouching of photos

300 dpi per squares
26.9

£

/m2

Digital retouching per working minutes

0.5

£

600 dpi per squares

53.9

£

/m2

Basic retouch (includes 3 minutes of retouching)

1.5

£

E.g. an image scanning of 40*60 cm on 300 dpi: 6,45

£

Photo mosaic making

15

£


We give you a custom bid in case of extra large resolution, scanning from scrap book or scanning in order

or particular file naming, depending on the complexity of the task.